Missing 2-year old Port Wentworth girl found safe in Pooler woods
Kamiyah Vicks has been found safe and is now at an area hospital receiving treatment for dehydration and minor scrapes.
Authorities say Kamiyah was found by Savannah Police recruits in a wooded area near Shellbark Way and Basswood Drive, which butts up to the Lake Shore neighborhood.
After a six hour search involving multiple agencies, they found two-year-old Kamiyah Vicks in the middle of the woods in Pooler.
"He heard the baby scream, and that's when I heard the baby scream as well. We paused for a second, and that's when we ran towards the baby," said Cadet Luis Esquina.
The cadets say they found Kamiyah dehydrated, leaning against a tree, with minor scrapes.
"Open arms, and ready to go. She was thirsty, she was hot, she was tired, so we got her the medical treatment she needed," said Cadet Robert Parker.
Kamiyah first went missing around 5 p.m. Tuesday night.
Port Wentworth Police were initially called around 7:00 Wednesday morning and discovered that the toddler was missing.
Several law enforcement and local agencies fanned out across the area and began searching for the toddler.
She was found by Savannah Police recruits crying and leaning against a tree at approximately 12:27 p.m.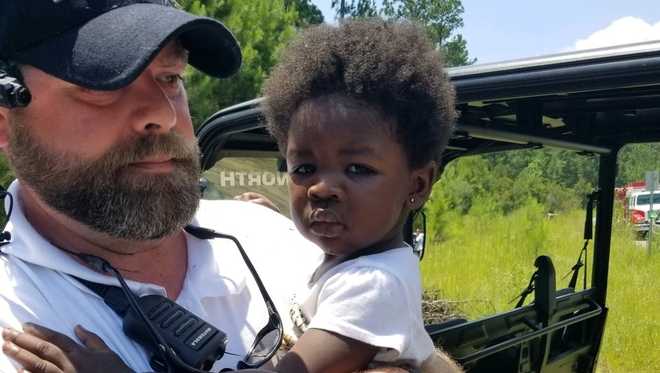 It's unclear how long exactly she was missing.
Police continue to investigate the circumstances surrounding her disappearance.